Young footballers took to the pitches of Dubai Sports City on April 21 and 22 in the Under 13 Dubai Intercontinental Football Cup.
The competition saw some of the world's biggest clubs including Real Madrid and AC Milan, travel to Dubai and compete in the inaugural tournament.
Regional clubs like Al Nasr and Dubai Club were also involved as were teams from Australia, Japan, Spain, Italy and the rest of the Middle East.
Despite an early defeat to AFA Angola, Celta Vigo emerged as the champions of the tournament, crowning their victory with a 1-0 win over Real Madrid in the final. Spanish Soccer Schools managed to beat Dubai Club, 2-1 to claim the Plate Cup.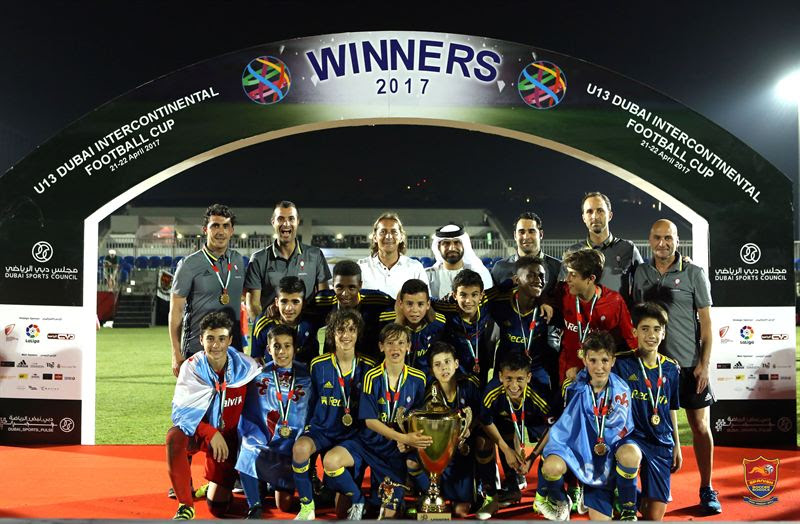 Michel Salgado, ambassador for the Spanish Soccer School and Real Madrid legend, said: "It has been a fantastic weekend of football here at Dubai Sports City, you can see all the teams have really enjoyed themselves and learnt a lot along the way."
"Over the past two days everyone has played really well and I was delighted to see Spanish Soccer Schools win 2-1 against Dubai Club and take home the Plate Cup!"
The Top Goal-scorer award went to Yeray Lancha Perez from Real Madrid, who bagged 8 goals. Meanwhile, the Best Goalkeeper award went to Cristovao Catungue from AFA Angola and Most Valuable Player (MVP) went to Robert Carril from Celta Vigo.
Dubai Sports City President, Khalid Al Zarooni said: "We are delighted to have hosted the inaugural Under 13 Dubai Intercontinental Cup here at Dubai Sports City. We are really seeing the quality of football in this country increase. Events like this allow our youth players to gain valuable experience and play against teams from across the globe."